It takes only 5 minutes to brighten someone's day.
Sign up below to volunteer. Scroll down further to learn more about volunteering.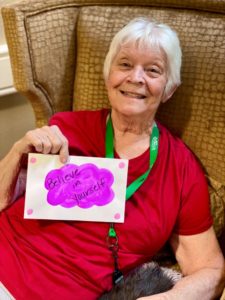 Brighten A Day depends on volunteers for our service, but did you know that volunteering also increases self-confidence, fights depression, and helps you stay healthy? Volunteering is also one of the world's most essential services, providing additional support for the most vulnerable and increasing the positive impact that organizations can make.
At Brighten A Day, an entirely volunteer-run organization, we rely heavily on the support of volunteers like you to continue our services in the community. Brighten A Day promotes positivity around the world and targets loneliness, which negatively impacts mental and physical health. Volunteering with our organization is a clear path to making a difference. Volunteering has no limits — we need your help no matter your age, background, or location — to bring smiles to the faces of seniors and frontline workers. Volunteers of all ages can gain so much from giving their time and talents to our service organization, including the development of empathy, world perspective, a balanced outlook, and greater connections with their community
There are so many reasons to give your time, and there's no limit to the benefits you will receive when you volunteer. Brighten A Day needs you on the frontlines of the fight against loneliness — you have the power to make a true difference.
Getting your business or organization involved can foster greater cooperation, leadership, and pride in your group. See here for ideas for group events.
Sign up below to make an impact on our nation and the world by trying one or more of the following service projects:
Send us a card or letter with a positive, creative message to bring cheer to nursing homes, hospitals, and frontline locations
Create a short 30-second video sharing an uplifting message
Share your talents by making a 2-3 minute video- you can sing, dance, tell jokes, juggle, or demonstrate a rare talent!
Volunteer your time to talk with nursing home residents via telephone or video chat
Donate an electronic device to give seniors a way to speak to their family during the pandemic
Help us spread our services to your area by starting a Brighten a Day chapter
Join our leadership team and become a part of our social media, outreach, or fundraising groups
Follow Brighten A Day on social media and spread the word about our organization
Connect us with nursing facilities in your area that we can send cards, letters, and electronic devices to
Assemble care packages for an assisted living facility
Donate PPE such as masks, face shields, or gloves
In just five minutes, you can make a lifetime of difference. Join the Brighten A Day community and start making an impact today!